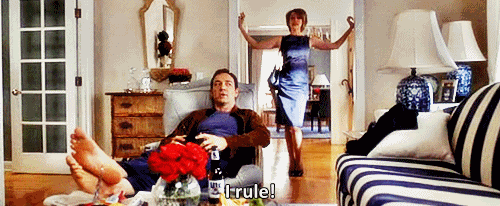 No, Kevin Spacey, I RULE.
TV Talk, with Joe Baxenwald
So, TV, then. Let's talk about television. Cathode ray tubes and what-not. Invisible information traveling through space and time, beaming into a machine in your home, displaying pictures and creating sounds for one to see and/or hear. It sounds like science-fiction, does it not? Like some fantastical product of The World of Tomorrow?
Don't be an idiot, it's just TV. Pretty much everyone has one. A lot people have more than one. Some people have a TV in every room of their home, and a few people even have them in their bathrooms. I consider this to be overkill – partly because I have a TiVo and can thus pause television when I have to use the potty, but mostly because I don't want to ever associate episodes of my favorite TV shows with going really bad twosies. For forty minutes. Because it just won't stop.
The Fall television season is upon us, and with it a veritable legion of new shows to watch and discuss. I have a confession to make: I don't care. Most of those new shows can stick it in their twosies-holes for all I care. Sure, there's
The New Girl
, which we've watched the first episode of and enjoyed. There's
Revenge
, which was fun, and I could see being very good depending on where it goes.
I'm interested in a few new shows, for various reasons. I'm curious about
The Playboy Club
and
Pan-Am
for the reason that I'm pretty sure the networks want me to be – they remind me of
Mad Men
. I haven't watched either yet, but may get around to it. I'm also planning to watch
Prime Suspect
. I've not seen the original series, but I've heard nothing but good about that, and after the disappointment of
The Killing
(watched three episodes, was bored, gave up), I have high hopes for PS. Plus I hear that Maria Bello absolutely owns it, which is awesome. I also hear that the new
Thundercats
cartoon, which premiered recently and totally qualifies for this, is pretty awesome. I've got the first episode of that TiVo'ed as well.
But then there's
Ringer
. Oh, poor, poor
Ringer
. Or, I should say, poor Buffy. Maybe she gets paid twice as much for playing two characters? How does that work? Does anyone know? That's the only scenario in which I can see Sarah Michelle Gellar reading this script and thinking, 'That's great stuff, I can't wait to do this.'
So
Ringer
,
The New Girl
, and
Revenge
are the only new shows that we've watched. Sure, we watched the season premieres of
How I Met Your Mother
(steady),
Modern Family
(great),
Community
(fantastic),
Parks & Recreation
(also fantastic),
The Office
(best it's been in a while), and
Fringe
(buh-waaaah?), but those aren't new, they're returning, and thus do not count. Although I love them all, so go watch them.
Community
,
Parks & Rec
, and
Fringe
are definitely Must-Watch TV.
There is one show that I really do want to watch at some point, though. It's not new, but it is returning. It's
The Good Wife
. I saw one episode of it during its first season, and I loved it, but I never came back to it because I didn't start at the beginning. It has great people on it (Carol Hathaway, Detective Mike Logan, and Dan Rydell!), and several friends have told me that it's really good. That's one I want to watch sooner rather than later. I know, a CBS drama that I want to watch! The world must be ending. As long as it doesn't end before I find out what's going on with Peter Bishop on
Fringe
, I'm okay with it.