Sometimes, when I'm flying on my dad's dime, I get to sit in a plane seat that has room for
both of my legs
. It's a real treat. But when I'm jetting to wherever on the cheapest ticket possible (meaning that I paid for it) I have to sit in the cargo hold with the goats. I am no stranger to uncomfortable transportation, is what I am saying. And it's been that way my whole life, because, you guys, I AM SO TALL. (Five feet, nine and three-quarters inches, yo.) So I've been folding myself into back seats and coach seats since I was a kid. But even
I
, affable though I almost always am, have my limits. Here are five places I'd never ride (or ride again), the five worst forms of transportation.
1) Sidecar
OK, so here's the thing about the sidecar: it looks cool; Robin rode in one. But I cannot think of a more dangerous enterprise than riding down the road in a little cart that is
lower
than a motorcycle, a cart over which you have
no
control. Plus also: it smells like a cow.
2) Unicycle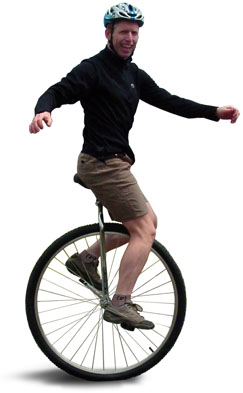 I'm not exactly what you'd call "graceful" or even "coordinated" but I can flat ride a bike. Yet, the unicycle confounds me! When I used to work in a bike shop, we had a unicycle and I used to try for hours and hours to ride that thing, and I could never get more than half a pedal without falling over. So, eff you, unicycle. You are worst.
3) On the back of a panserbjørne
Oh, Lyra, look at you: so brave, so noble, riding on the Iorek Byrnison like that. But hey, guess what? He's still a bear. He's probs just taking you somewhere far away so he can have you for breakfast without interruption.
4) Jamaican taxi
In Jamaica they have these van(ish) taxis and they'll shuttle you wherever you want to go, but what you should know is: a) There is no maximum capacity. If 50 people want to cram into those three seats, by God, the driver will let them. b) The driver has no regard for his life or for yours. All mountain roads in Jamaica are one lane and here's how drivers let you know they're coming around a curve: HONK! c) You'll never get charged the same thing twice. If you look like a tourist, they'll charge you six times as much as a local. That's why you've gotta learn the patois.
5) The Tube in the morning rush hour shouldering a 50-pound Kelty.
To my fellow Underground passengers on the way from King's Cross to Victoria: I am so sorry. I had a plane to catch. I was trying to stand really still. I wanted to tracks to open up and swallow me, such was your loathing.