I don't think I have worked harder on anything in my life, ever, than perfecting this list. Even now, hours past deadline I scribble out names, I reconsider. What is wrong with me? I have to thank
Jordan Baker
for the brilliant idea to make THREE LISTS. Unfortunately, I think that ended up making things even harder.
I spent a lot of time going over this with friends and several of my friends were a little harsh. For example, they tried to bully me out removing people from my list. So if you have hater comments, BRING IT ON. I can take you.
Sorry this is so late and so very many words. I kind of got too into it and those pictures? They took a lot of work. Please click them because they go to other, larger photos and that coding? It didn't do itself. I also ran into a little bit of a thing last night when I had to go see Ed Helms live instead of blog. Oh, and my third excuse is that I'm on the west coast so it's practically still the morning here.
Please note, these are in no particular order.
MEN

Ed Helms
I love him. Here are some facts: he was the only transfer from the Stamford branch to stay in Scranton proving his AWESOMENESS. He sings. He was on The Daily Show. He is funny. He is hot. And last night, when I saw him LIVE, he quickly jumped to the top of my favorite person ever list. I can't explain it really, but when men are really funny and they even crack themselves up, it seems humble to me. Swoon.

Luke Danes
I have never liked a male TV character more than I love Luke Danes. He owns a business, it is a food business, he cooks, he's funny, he's HOT, and he is good to everyone, even people who don't deserve it. And that hat. He fucked up a little in
Gilmore Girls
for a short bit and I actually was angry with
him
. That is how good he is. I want to be Lorelai (see below).

Ashton Kutcher
I know he's conventional and whatever but I've had a crush on him for so long that it just doesn't seem fair to bump him off the list in favor of somebody hip and cool. Ashton is hip and cool, he will forever be hip and cool. It doesn't matter how famous he is, he is kick back. He is HOT and he is FUNNY and he made up the most hilarious show ever. He did Punk'd AND The Guardian (which, also, Kevin Costner) And he's proven he is capable of committed relationships.

James Marsden
Sings, dances, acts the shit out of everything, family man, funny, cute, LOVES. I know, my descriptions are all starting to sound the same. But people don't use the phrase "he's not your type" for nothing. James, you are totally my type. Call me!

John Mayer
Let's just say that last Friday night when I was out with some friends drinking and discussing this list (because it has ruled my life), we were able to create about forty two sentences to describe my would-be relationship with John. "You could talk at night, on the phone..." "You could be waiting for the world to change." "He thinks your body is a wonderland." I'm pretty sure he would laugh about that as much as we would. Also, homeboy has a blog. I think we were made for each other, no? (Side note: Yes, I got the memo about Jessica Simpson. That doesn't bother me, okay?)
Alternates
These guys were very high on the list and even held spots for brief whiles. I pretty much expect them to be treated the same way as anyone on the list, should the opportunity arise.
Matt Damon, Jim Street (Colin Farrell's character in SWAT), Clive Owen, JimHalpert, Chace Crawford, Paul Rudd.
WOMEN
(The coding is messed up in this section. I don't know why.)

Catherine Zeta Jones
Yeah, so she's pretty in the obvious way. Also, she's rich. I don't really need to explain her, do I?

Jennifer Aniston
I recently watched an E! True Hollywood Story about how awesome she is. And it wasn't one of those shady E!THS where they get footage from thousands of years ago and email "experts." They actually interviewed her friends and stuff (and Matthew Perry!) and everyone loves her. She is genuine and sweet and funny and smart. Oh, and she was on a little show called
Friends
.

Katherine Heigl
This is all about the person. I agree with the rest of the world that Izzie is off her rocker and guess who else believes that? Katherine Heigl. She said in one interview that she was having to "relearn the character." So stop hating on her. And watch
this video
.

Lauren Graham
So talented. So funny. Best dressed. Also, she's like BFF with Matthew Perry. Awwww.

Maggie Gyllenhaal
Remember when she was in
Stranger Than Fiction
? Unmatchable. Also, I like her quirky pretty. And she's dating Peter Saarsgaard (yeah? are they still together?) so that's fun. AND she all BFF with actor/brother Jake. So cute.
Alternates
Amy Adams, Cristina Yang, Blake Lively, Eva Longoria Parker.
THREESOMES
Originally I wasn't going to do this category because my mother reads this blog and I think I've already scarred her enough with the Chick List. But then I had the hardest time narrowing my list down (see: fifty million alternates) and so I had the genius idea to cheat as much as possible.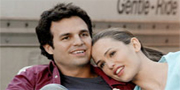 Jennifer Garner and Mark Ruffalo as Jenna and Matt in 13 Going on 30
Jen has owned the top of my girl crush list since Alias and since she had the ridiculously cute kid of hers. And Mark? So Cute is this movie. Photographers? Magazines? Very! Yes!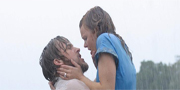 Rachel McAdams and Ryan Gosling as whatever names they had in The Notebook
Um, hottest sex ever in a movie that I've actually seen. (Mom, pretend I didn't just talk about sex.)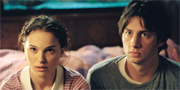 Natalie Portman and Zach Braff as Sam and Large in Garden State
One of my favorite movies. One of those things that makes me believe in love. For a little while, anyway.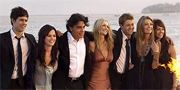 The Entire Cast of The OC
Imagine less of an incestual orgy, please, and more of a slide show of Ryan Atwood, Seth Cohen, Summer Roberts, Kirsten Cohen, Julie COoper, and sometimes even Marissa Cooper. It's the ultimate free pass.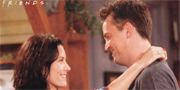 Monica and Chandler
You know that scene when they're laying in bed and Monica asks Chandler how did he get to be so cute and he says his dad was Swedish and his mom was a teeny tiny bunny? That is how I want all my bedroom conversations to be.
----
Abigail knows she doesn't need a free pass to get these people. Please don't tell her she's wrong.